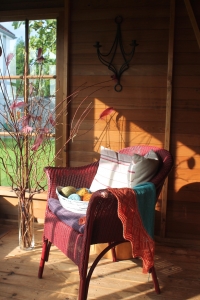 Our Jersey studio overlooks the sea on the South-East Coast of the beautiful Island of Jersey. On a very clear day, we can see the coast of France as we knit and enjoy the yarns. Looking west from the Island, there is nothing between us and New England from where nearly all our yarns are sourced. We are 'old' Jersey!
If you live on the Island, there is plenty of parking outside our studio at the top of Les Varines, St Saviour.
Our studio is currently only open by appointment. Please email us to arrange an appointment for a studio visit.
The No 3 Liberty bus stops 100 yards away and the shop is on the ground floor with the studio (and more yarn!) upstairs.
Appointment Visits
We are open to visits by appointment to customers, (groups of 2 or more must be from the same household). Please email us to arrange your appointment.
Visitors will be required to wear face coverings during their studio visit, and maintain physical distancing with staff whenever possible.
All visitors from outside of Jersey will receive a Covid-19 test upon arrival at our ports. However, due to a possible 7-day infection rate even with a negative result, and studio residents in the 'at risk' category, we will be accepting visits from Jersey residents only at this time.
This is due to a complete port lockdown from March to July which resulted in zero on-island cases, with the only new cases now coming in from abroad. We will keep a close eye on the fast-changing updates on Covid-19 and look forward to welcoming visitors from all locations as soon as it's safe for us to do so! Please contact us if you have any questions or queries on your circumstances.
We retain the right to deny entry or cancel appointments in the event that cases begin to spike and we have to fully close again.