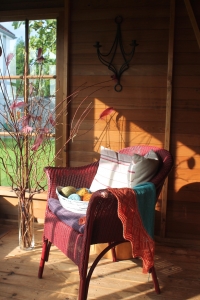 Our Jersey studio overlooks the sea on the South-East Coast of the beautiful Island of Jersey. On a very clear day, we can see the coast of France as we knit and enjoy the yarns. Looking west from the Island, there is nothing between us and New England from where nearly all our yarns are sourced. We are 'old' Jersey!
If you live on the Island, there is plenty of parking outside our studio at the top of Les Varines, St Saviour.
Our studio is currently only open by appointment. Please email us to arrange an appointment for a studio visit.
The No 3 Liberty bus stops 100 yards away and the shop is on the ground floor with the studio (and more yarn!) upstairs.