Feel the Bern Bundles – Boyland Knitworks & Ritual Dyes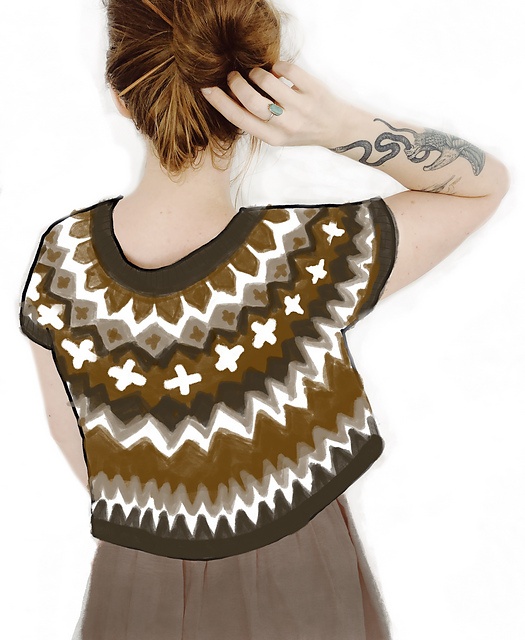 Feel the Bern Bundles – Boyland Knitworks & Ritual Dyes
FEEL THE BERN is a little yoke cropped sweater inspired by Bernie Sander's iconic mittens worn at the 2021 Presidential Inauguration. The mittens (and Bernie) were the unexpected fashion moment of the day, and I could not live without a sweater to match! The original mittens were made by Jen Ellis, a schoolteacher who makes them from recycled sweaters, so a new sweater design based on mittens made from old sweaters feels like the full knitter circle! – Caitlin Hunter
Add to Wishlist
Feel the Bern Bundles by Boyland Knitworks with Ritual Dyes
Feel the Bern is a fun sweater design by Caitlin Hunter of Boyland Knitworks, originally inspired by Bernie Sanders' mittens which became a fun meme among knitters!
The pattern is free and is adapted from her popular Soldotna Crop pattern. Caitlin is currently working on her first sample, hence the illustration in lieu of a knitted example.
To join in on the fun, we created some bundles in our choice of Ritual Dyes' Elder in some delightful combinations!
Bundles:
Leafy – C1: Treeline, C2: Chestnut, C3: Sprig, C4: Forsythia
Berry – C1: Chestnut, C2: Chromite, C3: Quartzite, C4: Clay
If you like the bundle colourways but wish to swap around the C1-C4 skeins, send us an email and we'll personalise your bundle!
Pattern not included, view the free pattern on Ravelry here.
Want to make Feel the Bern your own way? Pick up individual skeins of Elder here using the yardage guides below!
Yardage: Note that yardage is estimated and may vary depending on yarn used, gauge variations or modifications.
C1 (dark brown on illustration): 184 (207, 230, 253, 276, 299) {322, 345, 368, 391} yards
C2 (medium brown on illustration): 274 (308, 343, 377, 412, 446) {480, 514, 548, 584} yards
C3 (beige on illustration): 63 (71, 78, 86, 94, 102) {110, 117, 125, 133} yards
C4 (cream on illustration): 70 (79, 87, 96, 105, 114) {122, 131, 140, 148} yards
Sizes:
1 (2, 3, 4, 5, 6) {7, 8, 9, 10}
Finished circumference at bust: 32 (36, 40, 44, 48, 52) {56, 60, 64, 68}"
Finished sleeve circumference at upper arm: 11.25 (12, 13, 13.75, 15.5, 16.5) {19.25, 20.5, 21.5, 22.25}"
| | |
| --- | --- |
| Bundles | Leafy, Berry |
| Size | Size 1, Sizes 2 – 4, Sizes 5 – 9, Size 10 |