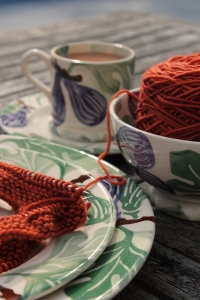 Our Fig Tree Friday Knitters meet in the studio on Friday mornings from 11-ish to 1-ish.
We are a friendly bunch and, if you are an islander, you probably know quite a few of us already!  If you are visiting, come and meet us and the yarns. We would love to meet you.  We share our knitting knowledge, knitting problems, coffee and chat.
Call Imogen on (01534) 732374 if you need encouragement to come – or to check that we are there when you are!
'Open Studio' events and classes are flagged up in here and on our Facebook page.