Feathers Cowl Bundles – Elizabeth Hall, The Farmer's Daughter Fibers & Spincycle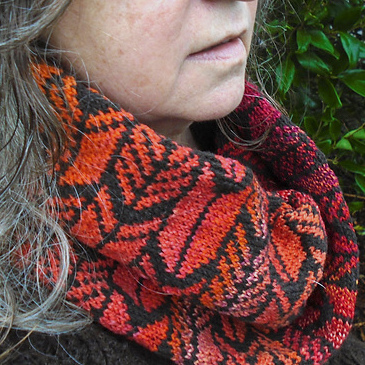 Feathers Cowl Bundles – Elizabeth Hall, The Farmer's Daughter Fibers & Spincycle
We've created curated bundles pairing Spincycle's Dyed in the Wool with our base choice of Recollect by The Farmer's Daughter Fibers.
The Feathers Cowl is a stranded color work cowl, knit in the round. The feathers are like stained glass–using a gradient or handspun yarn for the feather, and a solid color yarn for the outline. This is the perfect pattern to explore all the possibilities of Spincycle Yarns, your own handspun, gradient yarns, or even bits and pieces from your stash. It is knit in a tube, twisted to become a moebius, and the ends are then grafted using Kitchener stitch.. – Elizabeth Hall
We are the sole UK & Europe stockist for The Farmer's Daughter Fibers.
Add to Wishlist
Feathers Cowl Bundles by Elizabeth Hall with The Farmer's Daughter Fibers & Spincycle
The Feathers Cowl by Elizabeth Hall features colourful feathers decorating a moebius, infinity cowl. The feather design shines with two skeins of variegated Dyed in the Wool by Spincycle Yarns. We have chosen Recollect by The Farmer's Daughter Fibers for our alternative for the base yarn in our bundles, inspired by FDF's founder Candice English's sample!
Bundles (select bundle from dropdown menu above to view images):
Almost Elizabeth – Recollect in Paul Newman & Dyed in the Wool in Devilish Grin and Stay Out of the Forest
Mauve Mood – Recollect in J. Rankin & Dyed in the Wool in Pick Your Poison and Cold Comfort
Pattern not included, view the pattern on Ravelry.
Want to make Feathers Cowl your own way? Pick up both yarns individually here and make it your own way!
Yarn: Spincycle Dyed in the Wool, 400 yards/2 skeins (Sample uses Devilish Grin and Stay out of the Forest); Quince & Co. Finch or Chickadee, 350 yards/2 skeins (Sample uses Finch in color Bark) (I like to err on the side of too much yarn, to adjust for personal knitting differences.)
Gauge is not critical, although size may vary if your gauge isn't close. In this pattern, it is more important to work for smooth fabric than perfect gauge.
Important: The bundles provided here include a different base yarn to the designer's sample, so will not create an exact replica of Elizabeth's pictured Feathers Cowl. Please contact us for any further colourway specifications or special requests.
| | |
| --- | --- |
| Bundles | Almost Elizabeth, Imogen's Choice, Mauve Mood |
SKU:

N/A
Categories: All Bundles, Feathers Cowl, Shawls & Cowls, Spincycle Yarns, The Farmer's Daughter Fibers
Tags: dyed in the wool, Dyed in the Wool Bundles, Moebius Cowl, Sole UK & Europe Stocked Products, spincycle yarns, The Cowl Collection, The Farmer's Daughter Cowls & Shawls, the farmer's daughter fibers, The Recollect Collection
Save

66.7%

Save

£

5.00

Only

£

2.50

£

7.50