Spincycle Yarns – Dyed in the Wool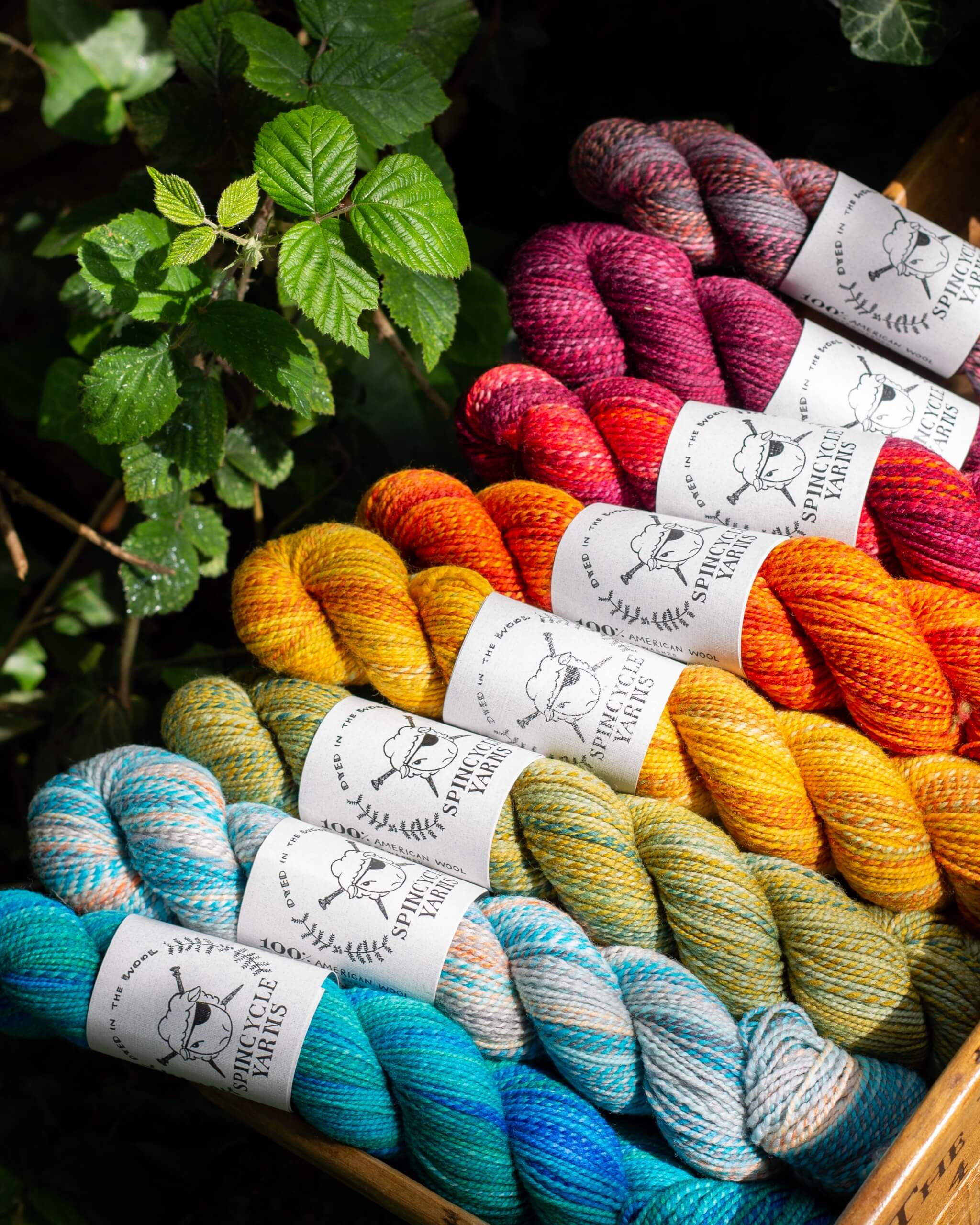 Spincycle Yarns – Dyed in the Wool
Weight:  Heavy fingering / Sport
Blend:  100% Superwashed American Wool
Needle size:  2.75-4.5mm / US 2-7
Stitches:  13-20 sts per cm / 5-6 sts per inch
Skein Length:  182.9 m / 200 yds
Care:  Hand wash or machine wash cold, lay flat to dry
Check out the new colourway CALLUNA – our own exclusive custom colour!
Add to Wishlist
Spincycle Yarns – Dyed in the Wool
Rachel & Kate are the genius girls behind Spincycle's 'Dyed in the Wool'. They began as handspinners and dyers and then branched out into a mill nearby in Bellingham, Washington State. In 2017, they bought the mill! The result is that Rachel and Kate merged the beauty and texture of a handspun yarn with the efficiency of a millspun, so we can get a hands on it just a little bit sooner!
As the fibre is dyed before it is spun and plied, the colours meet and part ways in stunning, unique combinations with a long colour change. The colour transitions in 'Dyed in the Wool' are slow and dramatic, and each skein is unique. Every skein is a colour palette and the colourways are more of a journey than a prescription: the overall effect is of a balanced seamless whole but when planning projects requiring more than one, remember to allow for nuance.
NB: colourways of this yarn vary from skein to skein, so please use the product images as a rough guide rather than an exact colour match. We will do our best to match multiple skeins of the same colour when ordered together, but we cannot guarantee an exact match to the image. 'Allow for nuance, and enjoy the ride!' – Spincycle's FAQ.
Check out our full Spincycle Yarns collection of skeins & kits here.
Pictured Samples:
| | |
| --- | --- |
| Brand | Spincycle Yarns |
| Colour | Absolute Zero, Afternoon Delight, Big Sky, Bright Idea, Bruised Ego, Burning Sensation, Calluna (Exclusive Custom Colourway), Castaway, Close Call, Cold Comfort, Dead Reckoning, Dear Diary, Deep Bump, Devilish Grin, Dirty Little Secret, Double Trouble, Dream World, Empty Vessel, Every Rose, Frosty Night, Ghost Ranch, Good Omen, Grumpy Birds, Heartsigh, Lapis, Leith, Light Years, Love Spell, Melancholia, Midsommar, Miss Me, Mississippi Marsala, Neveruary, Nostalgia, On The Low, Overpasses, Overshadow, Pick Your Poison, Pop-Click, Purse First, Radical Shift, Ranunculus, Robins Egg, Rosy Maple, Ruination, Rusted Rainbow, Salty Dog, Sex on the Beach, Shades of Earth, Space Oddity, Stay Out of the Forest, Stay Ready, Sugar High, Summer Love, Sunset Strip, Swerve, Syringa, Tangled Up In Blue, Tell Tale Heart, The Castle, The Family Jewels, The Meadows, The Saddest Place, Truth Bomb, Valley Girl, Vellichor, Verba Volant, Vibe Check, Wallflower, Water Witch, Wild Horses, Wololo |
| Weight | Fingering, Sport |
SKU:

N/A
Categories: A Thousand and One Suns, Assookinakii Cowl, Aunties Cowl, Baroque Bounty, Bergamot Hat, Bitty Birdies, Briocherie, Chevronopolis, Cinnabar, Flicker & Flame, Ghost Horses, Ghost Ranch Hat, Gr8 Gingham, Inclinations Cowl, Lovebirds, Metamorphic, Montana Mountain, Plume, Pressed Flowers, Rosehip, Shifty, Spincycle Yarns, Spincycle Yarns, Squaropolis, The Shift, Under the canopy, Yarns
Tags: American Wool, merino wool, Shift Collection by Drea Renee Knits, spincycle yarns, Superwash Merino, The Calluna Collection, The shift bundle
Save up to

31%

Save up to

£

4.50

Only

£

10.00

£

14.50

Save up to

56.5%

Save up to

£

13.00

Only

£

10.00

£

10.00 –

£

23.00