Spincycle Yarns – Dream State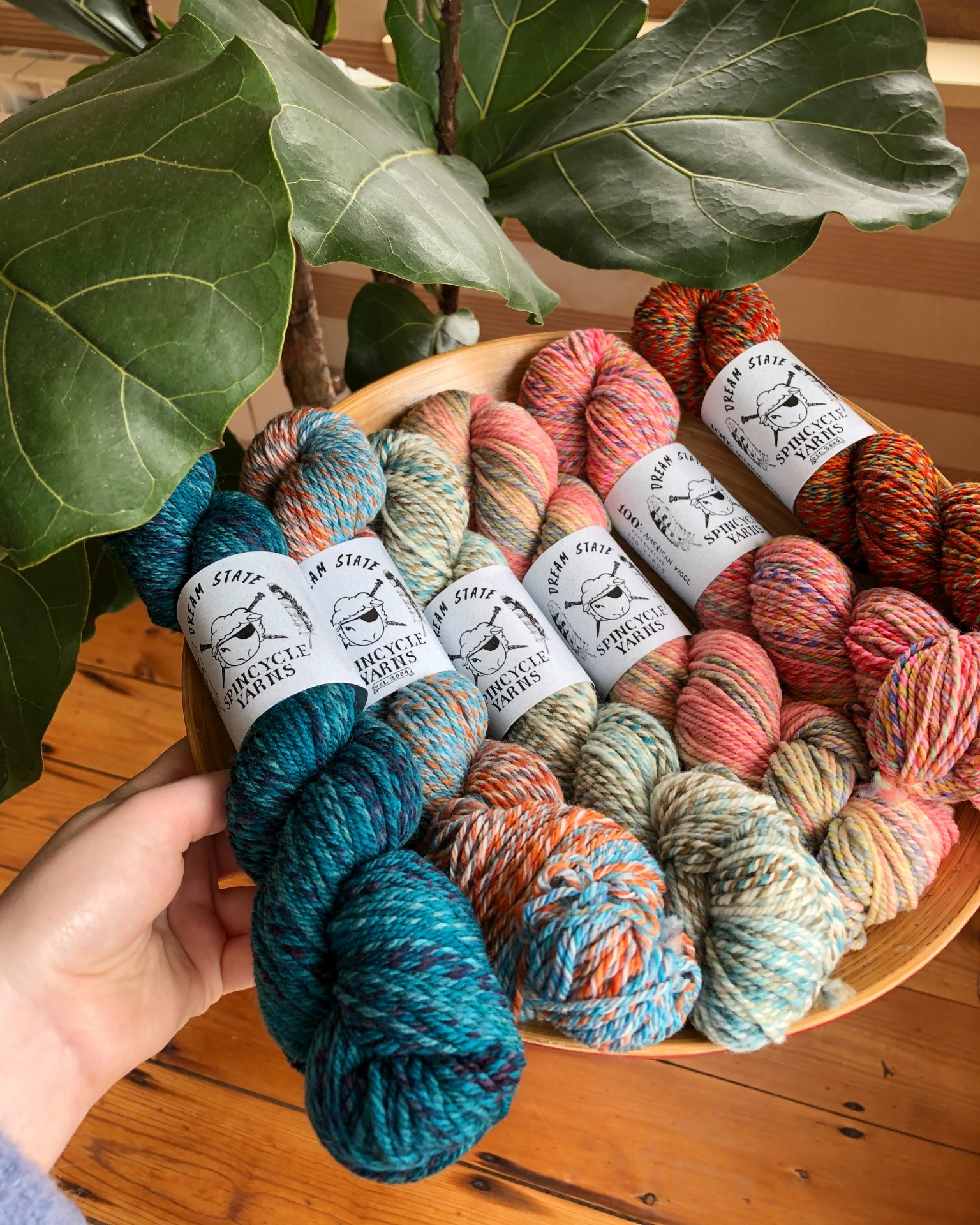 Spincycle Yarns – Dream State
Weight:  Worsted
Blend:  100% Superwashed American Wool
Needle size:  US 7
Stitches:  4.5 sts per inch
Skein Length:  137.2 m / 150 yds
Care:  Hand wash or machine wash cold, lay flat to dry
Check out the colourway CALLUNA – our own exclusive custom colour!
Add to Wishlist
Spincycle Yarns – Dream State
Dream State is Spincycle Yarns's most popular base and we are so excited to stock this fabulous worsted weight.
As the fibre is dyed before it is spun, the colours meet and part ways in stunning, unique combinations with a long colour change.
The colour transitions in 'Dream State' are slow and dramatic, and each skein is unique. Think of each skein as a colour palette: the overall effect is of a balanced seamless whole but when planning projects requiring more than one, remember to allow for nuance.
NB: colourways of this yarn vary from skein to skein, so please use the product images as a rough guide rather than an exact colour match. We will do our best to match multiple skeins of the same colour when ordered together, but we cannot guarantee an exact match to the image. 'Allow for nuance, and enjoy the ride!' – Spincycle's FAQ.
Check out our full Spincycle Yarns collection of yarns & kits here.
Pictured samples:
Nightshift by Drea Renee Knits in colourways Melancholia, Nostalgia, Deep Bump, Salty Dog, Shades of Earth & Rusted Rainbow
Fogline Shawl by Brienne Moody in colourways Nostalgia, Melancholia & Salty Dog with Pishkun by The Farmer's Daughter Fibers
Aries Hat by Rachel Price & Kate Burge in colourways Nostalgia & Neveruary
Oulu Mitts by Boyland Knitworks in colourways The Family Jewels & Salty Dog
Spark by Drea Renee Knits in Mississippi Marsala for the colourwork
| | |
| --- | --- |
| Weight | 10 kg |
| Dimensions | 2 × 3 × 3 cm |
| Brand | Spincycle Yarns |
| Weight | Worsted/Aran |
| Colour | Absolute Zero, Afternoon Delight, Big Sky, Bright Idea, Calluna (Exclusive Custom Colourway), Castaway, Close Call, Dear Diary, Deep Bump, Dream World, Ghost Ranch, Good Omen, Hidden Place, Lapis, Light Years, Love Spell, Melancholia, Midsommar, Miss Me, Mississipi Marsala (Bright), Mississipi Marsala (pale), Neveruary, Nostalgia, On The Low, Overpasses, Overshadow, Purse First, Ranunculus, Rosy Maple, Ruination, Rusted Rainbow, Salty Dog, Sex on the Beach |, Shades of Earth, Stay Out of the Forest, Stay Ready, Sunset Strip, The Family Jewels, Truth Bomb, Valley Girl, Vibe Check, Water Witch, Wololo |
SKU:

N/A
Categories: Aries Hat, Courage Shawl, Easy V, Flicker & Flame, Fogline Pullover, Fogline Shawl, Inclinations Shawl, Koivua, Melancholia Sweater, Nightshift, Promises in the Dark, Red Cedar Hat, Red Cedar Slippers, Spark Cardigan, Spincycle Yarns, Spincycle Yarns, Star Crossed, Trinigan, Western Rose, Yarns
Tags: American Wool, Easy V, merino wool, Priestess & Dream State, Shift Collection by Drea Renee Knits, spincycle yarns, Superwash Merino, The Calluna Collection, TRINE
Save up to

40%

Save up to

£

10.00

Only

£

15.00

£

25.00

Save up to

18.9%

Save up to

£

3.50

Only

£

15.00

£

18.50

Save up to

31%

Save up to

£

4.50

Only

£

10.00

£

14.50