Inclinations Shawl Bundles – Drea Renee Knits & Spincycle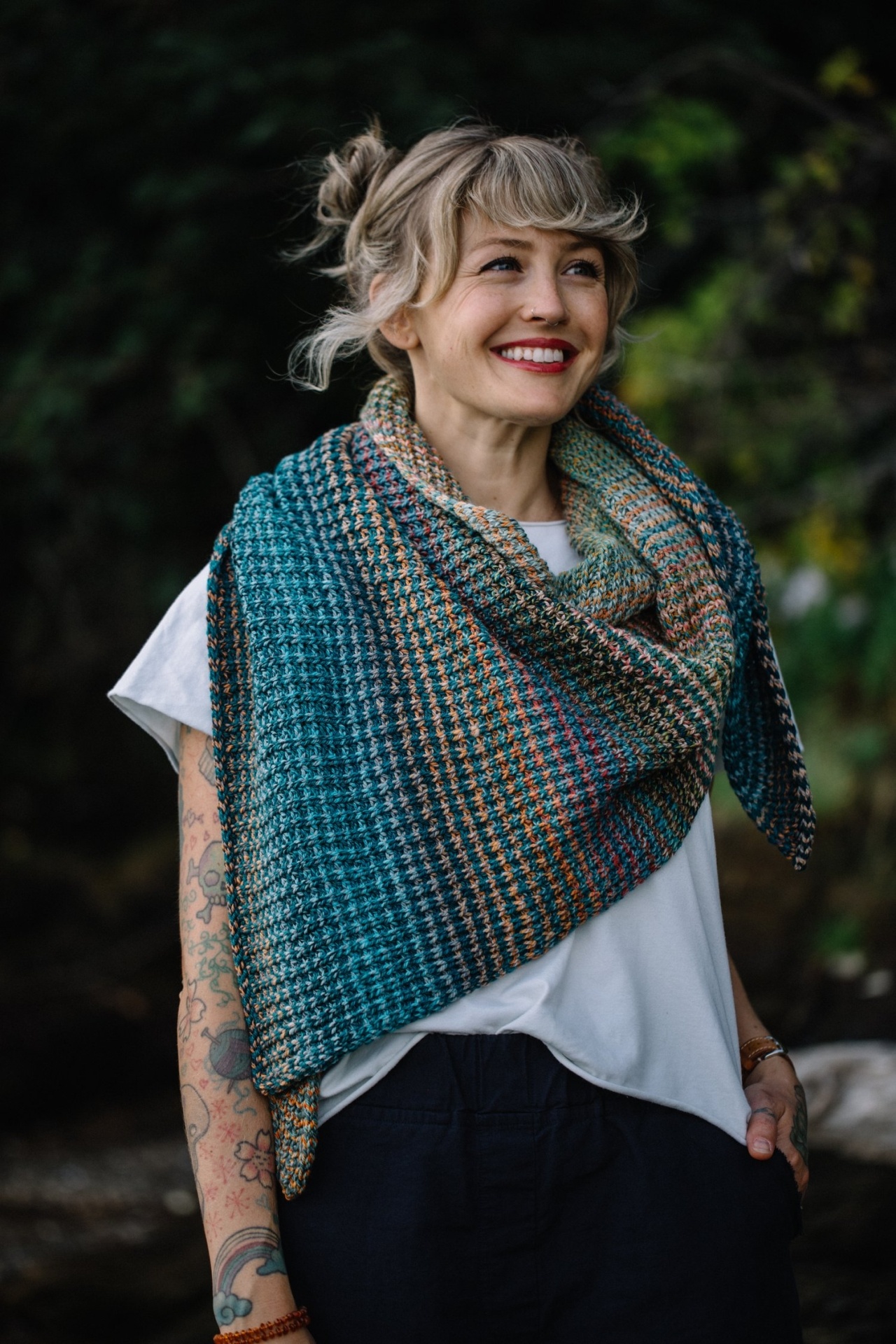 Inclinations Shawl Bundles – Drea Renee Knits & Spincycle
Original and curated bundles in Spincycle Yarns' Dream State.
This shawl is all about texture, squish and the movement of color. Watching the colors move and change was mesmerizing, and I finished the shawl long before I was ready to, because I just could not set it down! You can absolutely play with different color options, and I share some ideas in the pattern, but don't be afraid to make it your own! Knit it in 1 color or 6! Use up some stash, colorblock or stripe! It is knit flat, sideways, with increasing along one edge to create an asymmetrical triangle. – Drea Renee Knits
Select bundle from the dropdown menu below to view images.
Add to Wishlist
Inclinations Shawl Bundles by Drea Renee Knits with Spincycle Yarns
The Inclinations Shawl by Drea Renee Knits is a large triangular shawl, which celebrates the movement of colour through 6 unique Dream State skeins by Spincycle Yarns. Make sure to also check out the 'little sister' version of this design: Inclinations Cowl.
In this kit, you'll find six skeins of Spincycle Yarns Dream State – just choose one of our bundles detailed below! If you want to go 'off-menu', (and we love it when you do!), visit our full Dream State collection!
Bundles (select bundle from dropdown menu above to view image, contains 1 skein of each Dream State colourway):
Andrea's Original – Stay Out of the Forest, Mississippi Marsala, Castaway, Deep Bump, The Family Jewels & Melancholia
Passion Potential – Nostalgia, Wololo, Salty Dog, Stay Out of the Forest, Castaway, Overshadow
Jumping for Joy – Nostalgia, Stay Out of the Forest, Salty Dog, Calluna, Mississippi Marsala, Shades of Earth
Heart's Desire – Overpasses, Light Years, Salty Dog, Calluna, Rosy Maple, Ghost Ranch
Chaotic Good – Stay Out of the Forest, Bright Idea, Close Call, Light Years, Mississippi Marsala, Castaway
Calm & Collected – Nostalgia, Calluna, Overshadow, Overpasses, Light Years, Melancholia
Pattern not included, view it on Andrea's website or Ravelry.
FINISHED MEASURMENTS: Wingspan: 89"/226 cm | Center Depth: 30"/76 cm
YARN REQUIREMENTS: Worsted Weight in up to 6 colors | Total: 900 yds/823 m | Per Color (if using 6): 150 yds
SUGGESTED YARN: Spincycle Yarns – Dream State 100% American Wool (150 yds/137 m)
A – 1 skein Stay Out Of The Forest
B – 1 skein Mississippi Marsala
C – 1 skein Castaway
D – 1 skein Deep Bump
E – 1 skein The Family Jewels
F – 1 skein Melancholia
SUGGESTED NEEDLES: US 5/3.75 mm – 32"/80 cm circular needle
Due to the expansive and squishy nature of Fishermen's Rib, it is necessary to knit it on smaller needles then you may typically choose for this weight of yarn.
GAUGE: 17 sts & 28 rows = 4"/10 cm (post-blocking) | Measured over Half Fisherman's rib stitch pattern knit flat.
| | |
| --- | --- |
| Bundle | Andrea's Original, Flo's Choice, Imogen's Choice, Full of Surprises, Jumping for Joy, Heart's Desire, Chaotic Good, Calm & Collected, Passion Potential |
Save

61.5%

Save

£

4.00

Only

£

2.50

£

6.50