Shifty Bundles – Drea Renee Knits & Spincycle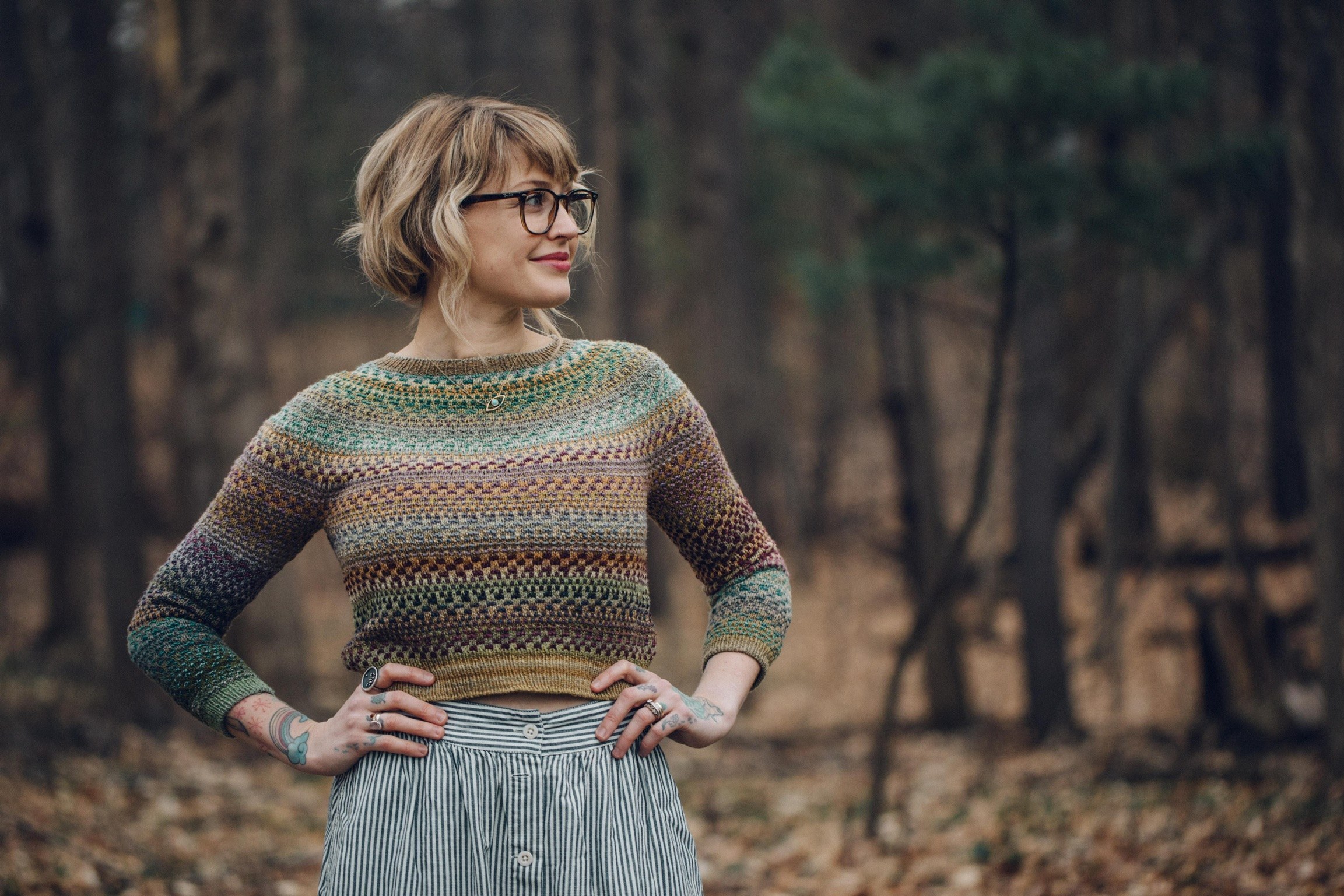 Shifty Bundles – Drea Renee Knits & Spincycle
Shop original Spincycle bundles here for Andrea Mowry's Shifty! The Dyed in the Wool MC colourway 'Grumpy Birds' has been brought back for this pattern's re-release with new & improved sizing.
This sweater is all about being playful and having fun with color! One colorway is used consistently as the "background" while 3 contrasting colors make up the textured colorwork using the Mosaic knitting method. This is one of the most versatile pieces in my wardrobe – it looks fabulous with high waisted pants and skirts, layered under overalls and pinafores or over dresses and tunics! – Andrea Mowry
NB: Select bundle and size on the dropdown menus below to view images. 'Special Bundles' may not display all sizes depending on stock availability, read more about them below.
Add to Wishlist
Shifty Bundles by Drea Renee Knits with Spincycle Yarns
Shifty is a beautiful popular sweater design by Drea Renee Knits, knitted in Dyed in the Wool by Spincycle Yarns. It's a perfect wardrobe pieces for transitional seasons and the Spring – plus it looks great under a pair of dungarees, if that's your kind of thing! The original sample shows off Dyed in the Wool in all its colour changing glory, so we were keen to curate our own combinations too.
In 2022, Andrea re-released this amazing pattern, with improved and extended sizing. Spincycle previously discontinued the MC colourway 'Grumpy Birds', but this has been brought back just in time for this classic design revival!
Bundles (select bundle and size on the dropdown menus above to view images):
Andrea's Original – MC: Grumpy Birds with CC: Dead Reckoning, Pick Your Poison & Nostalgia
New curated bundles coming soon!
Pattern not included – you can pick up a paper copy here, or view it on Ravelry.
If you'd like to choose your own colourway, pick up individual skeins of Dyed in the Wool here using the size guide below.
SIZES: 1 (2, 3, 4, 5)(6, 7, 8, 9) – Sample is shown in Size 2.
FINISHED BUST CIRCUMFERENCE: 30.75 (34.5, 38, 43, 46.75)(50.5, 54, 59, 62.75)"

SUGGESTED YARN : Spincycle Dyed in the Wool (200 yds)
Color A: Grumpy Birds 4 (5, 6, 6, 7)(7, 8, 9, 9) skeins
Color B: Dead Reckoning 1 (1, 2, 2, 2)(2, 2, 2, 2) skeins
Color C: Pick Your Poison 1 (1, 2, 2, 2)(2, 2, 2, 2) skeins
Color D: Nostalgia 1 (1, 2, 2, 2)(2, 2, 2, 2) skeins
Please refer to the pattern instructions for full pattern details about needles and gauge.
| | |
| --- | --- |
| Bundles | Andrea's Original |
| Sizes | Size 1, Size 2, Sizes 3 – 4, Sizes 5 – 6, Size 7, Sizes 8 – 9 |
Save

66.7%

Save

£

5.00

Only

£

2.50

£

7.50