The Back of Beyond Bundles – Natalie Sheldon & Ritual Dyes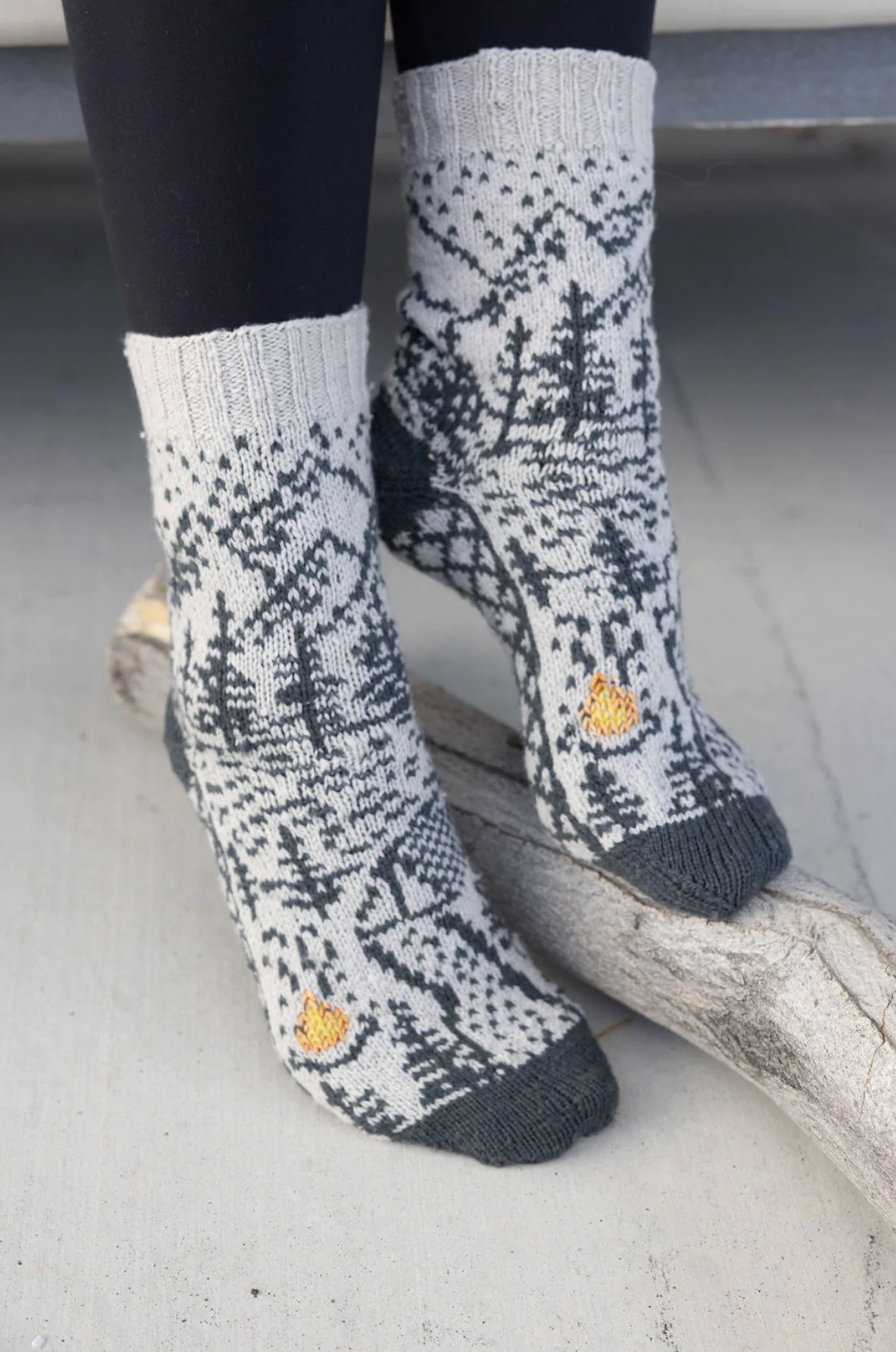 The Back of Beyond Bundles – Natalie Sheldon & Ritual Dyes
Original bundles for The Back of Beyond sock design from Making Stories Magazine Issue 8 in Ritual Dyes' Maven.
"When I hear the word 'campfire' I immediately think of our rustic camp in the woods. We often build a campfire to cook up our meals, heat our water, or just to relax and enjoy the evening.

To me, campfires evoke a feeling of calm, quiet solitude – a back-to-basics feeling away from the hustle and bustle of daily life. I hope knitting (and wearing) these socks brings you the same feeling." – Natalie Sheldon
We are the sole UK stockist for Ritual Dyes. 
Add to Wishlist
The Back of Beyond Bundles by Natalie Sheldon with Ritual Dyes from Making Stories Magazine Issue 8
The Back of Beyond socks by Natalie Sheldon from Making Stories Magazine perfectly encapsulates the issue 8 theme: Campfire. The design is created in the breathable and lightweight Rambouillet by Ritual Dyes, Maven.
Natalie's original design includes 1 yard of gold and yellow to highlight the flame detail on the campfire. Please use your own stash yarn for this detail, or pick up an additional skein of your choice here.
Bundles (select bundle and size to view images):
Natalie's Original Colourway – Bone (off-white) and Chromite (charcoal)
More curated bundles coming soon!
FINISHED MEASUREMENTS:
Foot circumference: 17.5 (18.75, 20, 21.25, 22.5) cm
Leg length to heel, including cuff: 14 (14.75, 16, 16.5, 17.25) cm
SIZES: 1 (2, 3, 4, 5) – Pictured in size 3
YARN: Ritual Dyes Maven (100% Rambouillet Wool; 242 metres/265 yards per 50g) in Bone (MC) and Chromite (CC).
MC: 165 (195, 215, 240, 270) metres / 180 (215, 235, 265, 295) yards
CC: 150 (185, 200, 225, 245) metres / 165 (200, 220, 245, 270) yards
Yarn for duplicate stitch (optional): approximately 1 metre / 1 yard
Check out our full Making Stories collection here.
| | |
| --- | --- |
| Bundle | Natalie's Original |
| Size | Sizes 1 – 4, Size 5 |
Save

10.2%

Save

£

3.00

Only

£

26.50

£

29.50