Western Rose Bundles – Thea Colman, Spincycle & Harrisville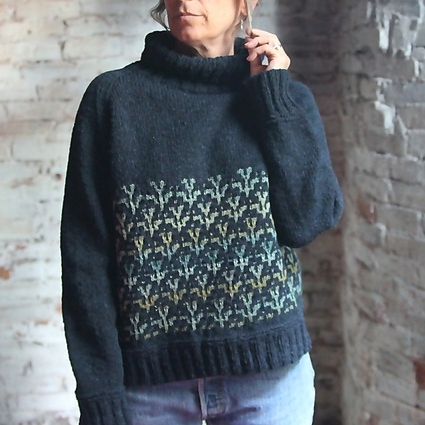 Western Rose Bundles – Thea Colman, Spincycle & Harrisville
Pick up an original yarn bundle of Thea Colman's Western Rose here, featuring nightshades by Harrisville Designs and Dream State by Spincycle Yarns.
Western Rose is my first real foray into the world of mosaic knitting and I am hooked! Some ridge detail at hem and cuffs adds a tiny bit of texture – and a raglan yoke, paired with a shallow folded collar gives it an updated and easy-to-wear shape.

A stockinette body means I have included lots of options for modifying the sweater to fit your body and your wardrobe, so the pattern has instructions for alternate necklines (see the test knits!), as well as how to alter width or length as needed. Western Rose is knit from the bottom up. Sleeves are joined at yoke and then both raglan shaping and short rows are added before working the final collar.

It's actually a very simple knit, and seemed to fly off the needles once I cast on. I think it took longer for me to decide on what Spincycle colorway to pair with which Nightshades option! – Thea Colman
Select bundle and size on the dropdown menus below to view bundle images.
Add to Wishlist
Western Rose Bundles by Thea Colman with Spincycle Yarns & Harrisville Designs
Western Rose by Thea Colman features a deep panel of flowers in beautiful shifting colour that stands out against the sophisticated navy blue heather of the stockinette body. The original sample uses Harrisville Designs' nightshades for the base, with Dream State by Spincycle Yarns for the colourwork.
Pick up a bundle here of the original sample colourway, or check out some of our alternative suggestions!
Bundles (select bundle and size to view images):
Thea's Original – nightshades in last call and Dream State in Deep Bump
Fig Tree's Fave – nightshades in stiletto and Dream State in Calluna
Fireside Charcoal – nightshades in cinder and Dream State in Stay Out of the Forest
Evening Heather – nightshades in dashboard and Dream State in Neveruary
Daffodil Dusk – nightshades in street light and Dream State in Salty Dog
Deep Peach – nightshades in cinder and Dream State in Castaway
Pattern not included, view it on Ravelry.
Want to make Western Rose your own way? Pick up individual skeins of your own choice here!
Sizes: 34.5(38.25,40.43.75,47.25)(51,54.5,58.25,61.75)" | Sizes are based on circumference of sweater around bust, in final blocked fabric. Sample is shown worn with 5"/12.75cm of positive ease, based on my bust, and a hip length.
Yardage by Size:
Background Color – Harrisville Designs Nightshades (100% American Cormo & Wool), 250 yds/229m per 3.5oz/100g skein). Shown in Last Call. 900(1000,1150,1250,1350)(1500,1650,1750,1800)yds
Accent Color – Spincycle Yarns Dream State (100% American wool, 150 yds/137m per 4oz/113g skein). Shown in Deep Bump. 200(200,250,250,300)(300,300,350,350)yds
| | |
| --- | --- |
| Bundles | Thea's Original, Fireside Charcoal, Evening Heather, Daffodil Dusk, Deep Peach, Fig Tree's Fave |
| Size | Sizes 1 – 2, Sizes 3 – 4, Sizes 5 – 6, Size 7, Size 8, Size 9 |