Fogline Shawl Bundles – Brienne Moody, Spincycle & The Farmer's Daughter Fibers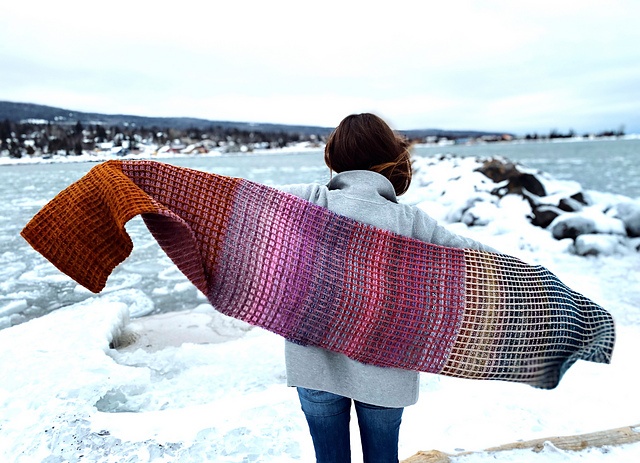 Fogline Shawl Bundles – Brienne Moody, Spincycle & The Farmer's Daughter Fibers
The Fogline Shawl is a substantial, rectangular accessory that can be wrapped generously around or worn long as a statement piece. The knitting is both compelling enough to keep you interested in the stitch pattern AND easy enough to knit while carrying on a good conversation or indulging in Netflix. The shawl is surprisingly light, knitted in a combination of The Farmer's Daughters' Pishkun and Spincycle's Dream State yarns. It's texturally striking. And the stitch pattern is easy to memorize. This pattern is suitable for both experienced knitters and for knitters attempting their first-ever colorwork project. – Brienne Moody
We are the sole UK & Europe stockist for The Farmer's Daughter Fibers.
Add to Wishlist
Fogline Shawl Bundles by Brienne Moody with Spincycle Yarns & The Farmer's Daughter Fibers
The Fogline Shawl is a beautiful shawl to cosy up in by Brienne Moody, featuring Spincycle Yarns' Dream State and The Farmer's Daughter Fibers' Pishkun. We love the way this rectangular shawl transitions and fades from colour to colour.
Read about our own studio sample with sweet pom poms here.
We have put together bundles in the original colourway so you can make your own, as well as some suggestions for a jazzy alternative!
Bundles (select the bundle from the dropdown menu above for images):
Brienne's Original
Pishkun skeins: Eagle Eye, Buffalo Gal, Piikuni, Elk Antler
Dream State skeins: Neveruary, Shades of Earth, Melancholia
Fig Tree's Fave (we added pom poms to our sample with the leftover yarn!)
Pishkun skeins: Pretty Shield, Mountain Man, York, Napi
Dream State skeins: Nostalgia, Melancholia, Salty Dog
Pattern not included, view it on Ravelry.
If you'd like to make your own combination, choose your individual skeins of Dream State and Pishkun here!
Gauge: 20 stitches and 42 rows = 4" in the Basket Stitch Pattern using a 24" circular needle US SIZE 7 (4.5 mm) or size needed to obtain gauge
Finished & Blocked Measurements: 74" (188cm) long and 18" (45.5 cm) wide
Important: The 'Brienne's Original' bundle features the original colourways for the Fogline Shawl pictured in Brienne's sample. However, due to the artisan nature of these yarns and colour saturation variation of each dye lot, we cannot guarantee that your finished knit will exactly match the designer's sample. Please allow for colour variation, and enjoy your unique knit! Contact us for any further colourway specifications or special requests.
| | |
| --- | --- |
| Bundles | Brienne's Original, Fig Tree's Fave, Falling Leaves, Evening Breeze, Night Swim, Morning Dip |
SKU:

N/A
Categories: All Bundles, Best-Seller Bundles, Festive Knits Gift Guide, Fogline Shawl, Kits Made with Love, Spincycle Yarns, The Farmer's Daughter Fibers, ~ Brienne Moody Bundles ~
Tags: Brienne Moody Bundles, dream state, Dream State Bundles, Mother's Day Gift Guide, Pishkun, spincycle yarns, The Calluna Collection, The Farmer's Daughter Cowls & Shawls, the farmer's daughter fibers