Koigu – Painter's Palette Premium Merino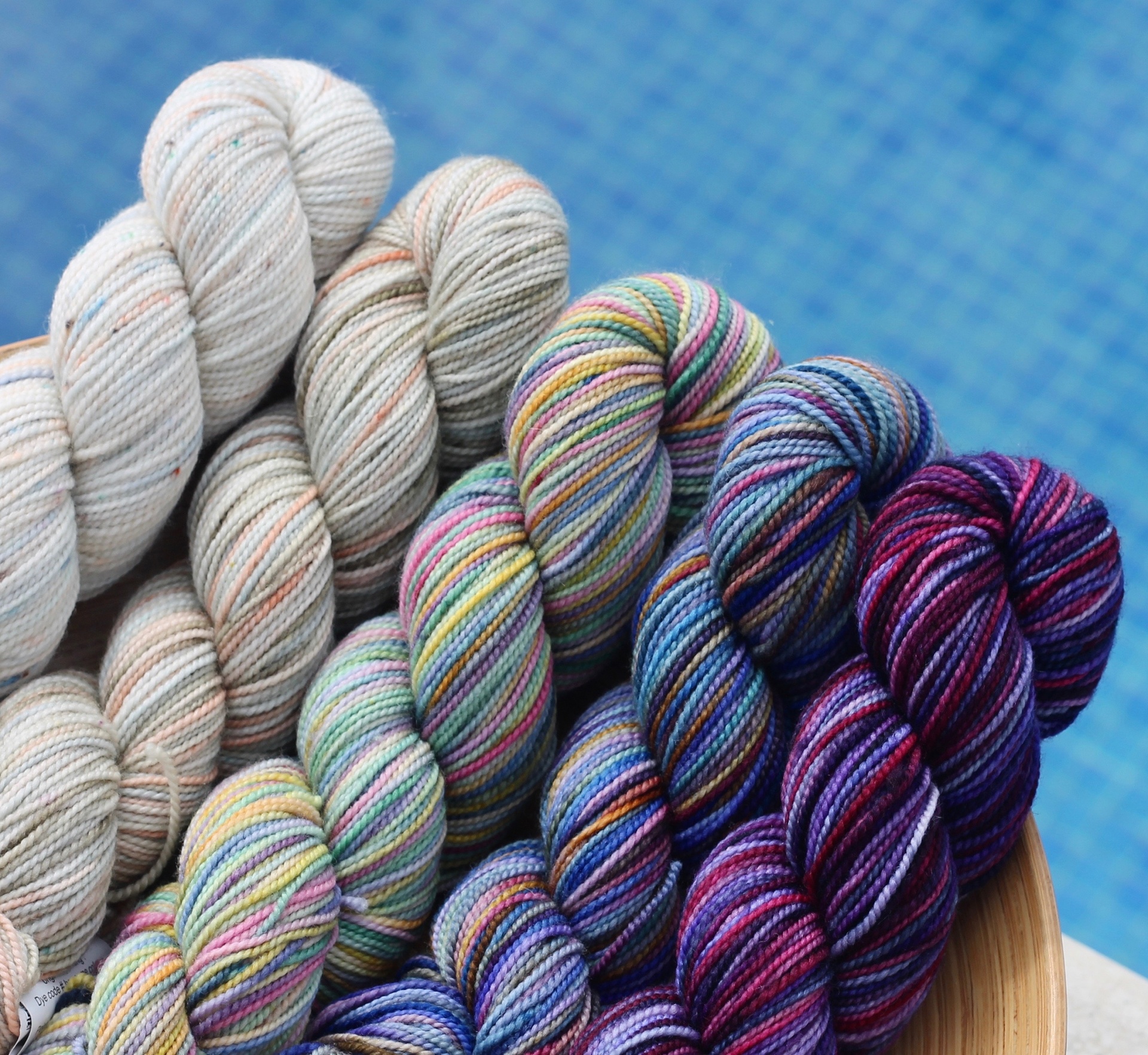 Koigu – Painter's Palette Premium Merino
Weight:  4 ply / Fingering
Blend:  100% Merino
Needle size:  3.25-3.75 mm / US 1-5
Skein Length:  160 m / 175 yds
Add to Wishlist
Koigu – Painter's Palette Premium Merino (KPPPM)
We love Koigu KPPPM. The yarn is spun from the finest merino sheep in the world and hand-painted in small batches of 21 or 22 skeins to produce individual works of art in magnificent colourways.
A favourite of fibre artists everywhere, KPPPM is ideal for hand or machine knitting, crochet, weaving or needlework.  We love the springiness of the yarn, its durable twist and lightweight softness. Our customers have used it for creating dresses, slippers, sweaters, shawls, blankets, hats, and gloves… well anything, really!
We also stock Koigu's luscious 50% mulberry silk, 50% merino wool blend: Mori.
| | |
| --- | --- |
| Brand | Koigu |
| Colour | 1020 36, 1050 81, 1105 11, 1233 57, 1505 19, 2326 207, 2340 292, 2368 101, 2400 637, 2401 3, 2405 235, 81, P100 926, P102 0008, P102 1102, P102 235, P102 236, P1020 36, P104 168, P1050 81, P116 0007, P116 0035, P116 370, P118 A275, P1233 57, P142 0005, P142 005, P150 148, P1503 19, P207 145, P216 182, P2326 207, P2400 637, P2401 3, P301 192, P306 174, P309B170, P315 335, P317 314, P325 219, P328 84, P333 302, P333A 60, P334 0001, P360 21, P407 0008, P407 0017, P407 236, P407 249, P419 185, P426 0014, P426 0015, P426 446, P426 451, P427 156, P436 0017, P436 407, P458 76, P468 31, P470 0014, P470 C153, P474 24, P474 31, P502 59, P509 0002, P509 137, P519 83, P524C 0009, P529 270, P536 0047, P536 217, P537 91, P601 128, P603 116, P604 184, P627 128, P628 0005, P628 0006, P637 121, P642 92, P70 0014, P704 0050, P704 183, P707 143, P713 0023, P713 275, P713 280, P713 281, P718 168, P735 0007, P735 18, P736 0013, P736 21, P736 30, P847 48, P853 142, P856 222, P857 134, P859 0040, P859 246, P901 43, P921 26, P940 33, P950 80 |
| Weight | Fingering |
Save up to

40%

Save up to

£

8.00

Only

£

12.00

£

20.00

Save up to

37.5%

Save up to

£

9.00

Only

£

15.00

£

24.00

Save up to

18.9%

Save up to

£

3.50

Only

£

15.00

£

18.50