Sale!
Dream in Color – Smooshy with Cashmere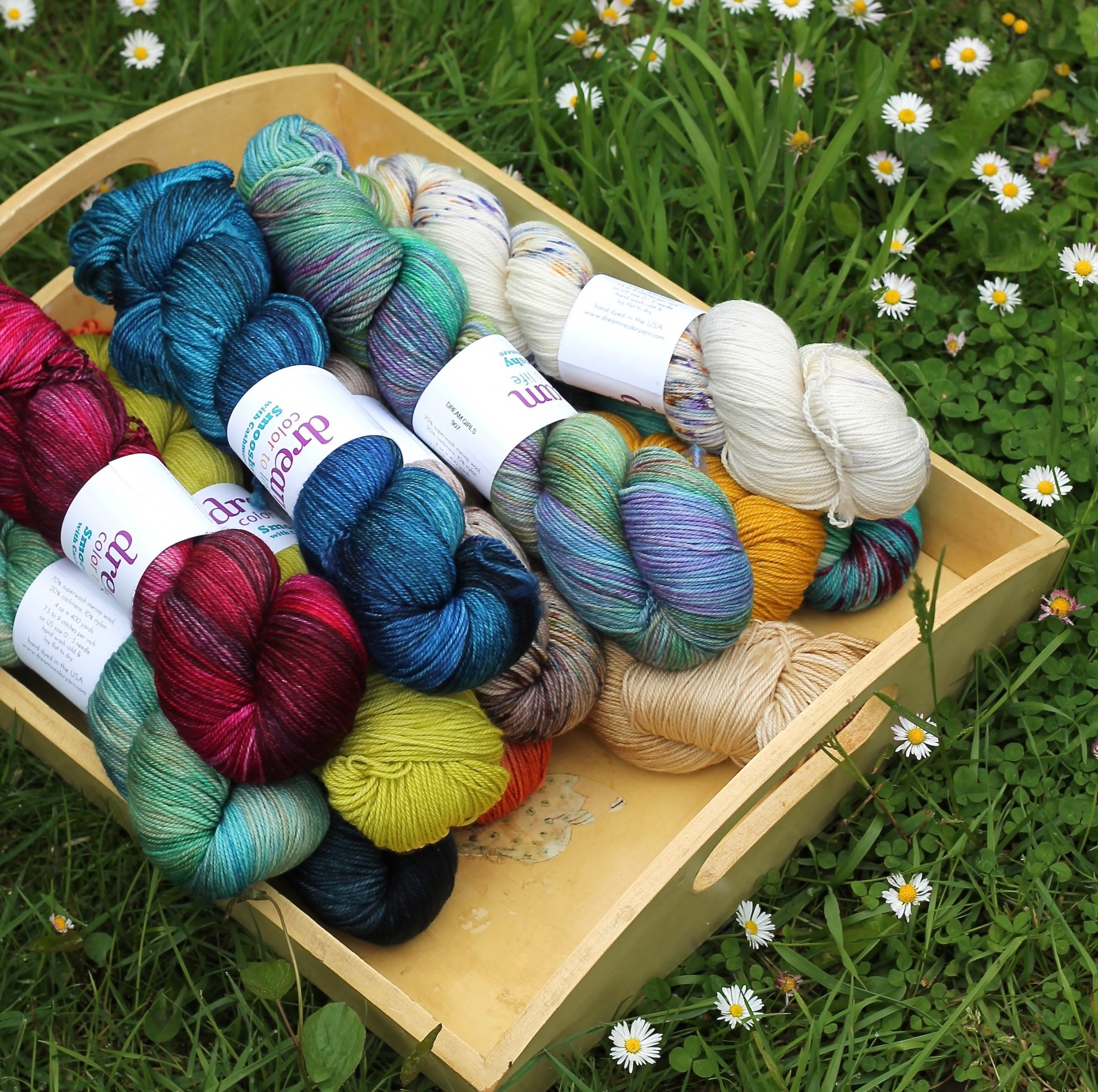 Dream in Color – Smooshy with Cashmere
Weight:  3 ply / Fingering
Blend:  70% Superwash Merino Wool, 20% Fine Cashmere, 10% Nylon
Needle size:  US 0-2
Stitches:  7.5-9 sts per inch
Skein Length:  365.7 m / 400 yds
Care:  Hand wash or machine wash gently, lay flat to dry
Add to Wishlist
Dream in Color – Smooshy with Cashmere
Smooshy with Cashmere is the a go-to Dream in Color base for every type of accessory. With its luscious blend of luxury fibres, Smooshy with Cashmere is opulence in a skein. The smooth, plied base, combined with a unique dyeing process, gives Smooshy with Cashmere its deep and lushly-shaded tones. The 20% cash­mere makes this yarn divinely next-to-skin soft, while 10% nylon lends durability that means Smooshy with Cashmere is equally at home in socks and open, airy lacework.
We originally revealed brand new colours of this new sock yarn at the 2019 Unravel Festival, and have adored them ever since in our studio!
We have 3 exclusive limited edition colourways in our collection:
Valentine ♥ – a gorgeous blend of rich pinks and purples.
Winter Blend with Orange Accent –  use the orange mini-skein for an added accent to a garment, like a contrast colour for a hat brim, sock toe and heel, or jumper sleeve cuff.
Portelet – a colourway blended especially for Fig Tree Yarns. Inspired by Portelet Bay in Jersey, the skein combines colours of the turquoise sea, creamy sand, and pink Jersey thrift flowers.
We also carry Dream in Color in a range of different blends – Classy, Jilly and Cosette.
Pictured sample:
| | |
| --- | --- |
| Colour | Amber Glass, Bermuda Teal, Blanche Fleur, Blue Fish, Charli au Lait, Cinnamon Girl, Dreamgirls, Fable, Guthrie Peak, Kiss Me Kate, Milky Spite, My Fair Lady, Petrified Forest, Portelet (Exclusive Fig Tree Yarns Colour), Prickly Pear, Shuyler Lake, Shy, Tex-Mex, Valentine ♥ (Exclusive Colour), Whisper, Wineberry, Winter Blend with Orange Accent Mini (Exclusive Colour) |
| Brand | Dream In Color Yarns |
| Weight | Fingering |
Save up to

53.8%

Save up to

£

14.00

Only

£

12.00

£

12.00 –

£

20.00
Save up to

31%

Save up to

£

4.50

Only

£

10.00

£

14.50