Stripes (Bright) Bundles – Drea Renee Knits & The Farmer's Daughter Fibers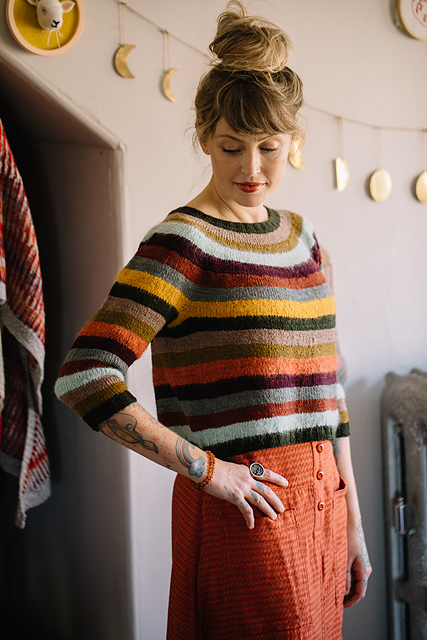 Stripes (Bright) Bundles – Drea Renee Knits & The Farmer's Daughter Fibers
A round yoke sweater worked from the top down, this pullover is the perfect blank canvas. Think of it as a template to mix up colors, yarn bases and your creativity! Be playful and have fun! This sweater is worked seamlessly. The sleeve sts are put on hold while the body is finished and then returned to the needle. This sweater includes instructions for a cropped or full length fit and different collar options. – Andrea Mowry
We are the sole UK & Europe stockist for The Farmer's Daughter Fibers.
Add to Wishlist
Stripes Bundles (Bright) by Drea Renee Knits with The Farmer's Daughter Fibers
Stripes is a fun sweater design by Andrea Mowry of Drea Renee Knits. We have original bundles for the bright sample featuring The Farmer's Daughter Fibers, as well as an alternative suggestion! Andrea combines rustic Recollect with soft Oh Dang! to make the Stripe sweater of your dreams! You can choose to have the Oh Dang! texture added like the original, or choose to stick to Recollect only if you prefer a single texture knit.
Bundles (Yarn is for the full size jumper):
Andrea's Original
Recollect: Pine Drop, Dumplin, Sunny's, Sinopah, Pretty Shield, Ranch Romance
(Optional) Oh Dang!: Juniper, Shake-A-Day, Pretty Shield
Earth Tones (Fig Tree's Choice)
Recollect: I've Got Dreams to Remember, Chinook Winds, J. Rankin, Paul Newman, Dumplin', Porch Pumpkin
(Optional) Oh Dang!: Eagle Eye, Mr. Pocket, J. Rankin
Pattern not included, pick up a paper copy here or view it on Ravelry.
If you would like to go 'off menu', feel free to pick up your own individual skeins here using the provided yarn guide.
Sizing for Bust Measurements 34.25 (37, 40, 46)(50.5, 55, 59.25)(63.75, 68, 72.5)"
Important: Some of these bundle feature the original colourways for Stripes! pictured in Andrea's sample. However, due to the artisan nature of these yarns and colour saturation variation of each dye lot, we cannot guarantee that your finished knit will exactly match the designer's sample. Please allow for colour variation, and enjoy your unique knit! Contact us for any further colourway specifications or special requests.
We also stock original bundles for Andrea's muted sample version here.
| | |
| --- | --- |
| Bundles | Andrea's Original (Recollect only), Andrea's Original (Recollect & Oh Dang!), Earth Tones (Recollect Only), Earth Tones (Recollect & Oh Dang!) |
| Size | Sizes 1 – 4, Sizes 5 – 10 |