Stripes (Muted) Bundles – Drea Renee Knits & The Farmer's Daughter Fibers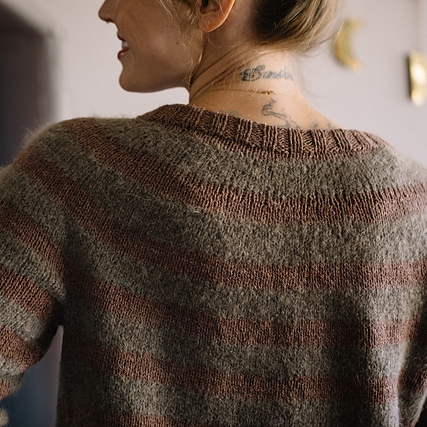 Stripes (Muted) Bundles – Drea Renee Knits & The Farmer's Daughter Fibers
Shop original colourway bundles for Andrea Mowry's Stripes! here – the only place to find The Farmer's Daughter Fibers in the UK & Europe.
A round yoke sweater worked from the top down, this pullover is the perfect blank canvas. Think of it as a template to mix up colors, yarn bases and your creativity! Be playful and have fun! This sweater is worked seamlessly. The sleeve sts are put on hold while the body is finished and then returned to the needle. This sweater includes instructions for a cropped or full length fit and different collar options. – Andrea Mowry
We also stock original bundles for Andrea's bright sample version here.
Add to Wishlist
Stripes Bundles (Muted) by Drea Renee Knits with The Farmer's Daughter Fibers
Stripes is a fun sweater design by Andrea Mowry of Drea Renee Knits. We have original bundles for the muted sample featuring The Farmer's Daughter Fibers!
Pattern not included, pick up a paper copy here or view it on Ravelry.
Stripes is Andrea Mowry's striped sweater creation, using Recollect and Oh Dang! to make the striped sweater of your dreams!
In this bundle: This bundle includes the original sample colourways that Andrea used in her muted sample – Recollect in Dumplin' and Oh Dang! in Mr. Pocket
Yarn is for the full size jumper.
If you would like to go 'off menu', feel free to pick up your own individual skeins here using the provided yarn guide.
Sizing for Bust Measurements: 34.25 (37, 40, 46)(50.5, 55, 59.25)(63.75, 68, 72.5)"
Important: This bundle features the original colourways for the Stripes! pictured in Andrea's sample. However, due to the artisan nature of these yarns and colour saturation variation of each dye lot, we cannot guarantee that your finished knit will exactly match the designer's sample. Please allow for colour variation, and enjoy your unique knit! Contact us for any further colourway specifications or special requests.
We also stock original bundles for Andrea's bright sample version here.
| | |
| --- | --- |
| Size | Sizes 1 – 3, Size 4, Size 5, Size 6, Size 7, Size 8, Size 9, Size 10 |