Ritual Dyes – Zodiac Collection Bundles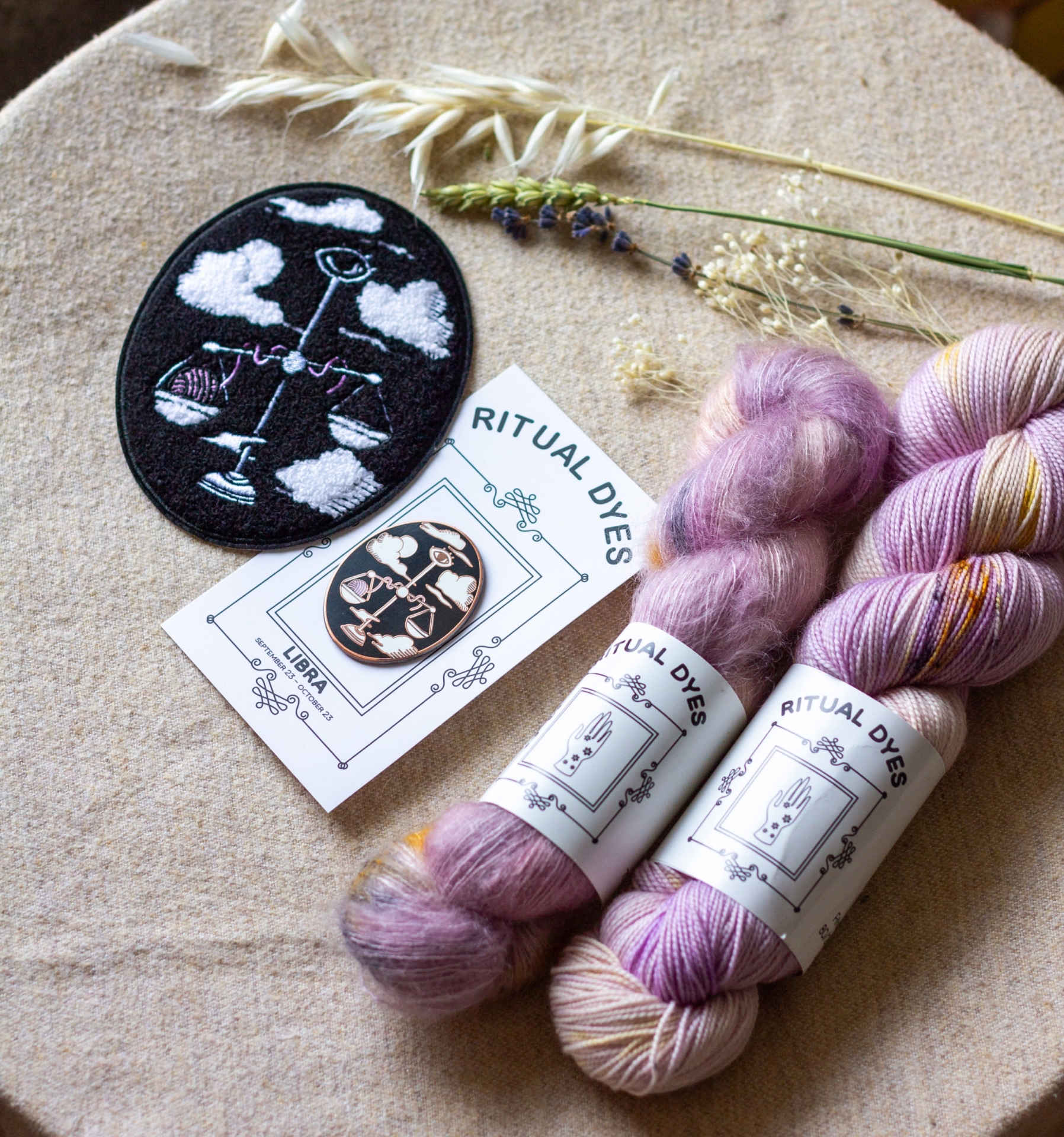 Ritual Dyes – Zodiac Collection Bundles
Zodiac Dates:
Capricorn: December 22 – January 20
Aquarius: January 20 – February 18
Pisces: February 18 – March 20
Aries: March 20 – April 20
Taurus: April 20 – May 20
Gemini: May 20 – June 21
Cancer: June 21 – July 23
Leo: July 23 – August 23
Virgo: August 23 – September 23
Libra: September 23 – October 23
Scorpio: October 23 – November 22
Sagittarius: November 22 – December 22
Add to Wishlist
Ritual Dyes – Zodiac Collection Bundles
The Zodiac bundle includes one skein of yarn plus an enamel pin and large fabric patch. Select your sign and choose between Ritual Dyes yarn in the Priestess, Fae or Maiden base. The perfect gift for lovers of knitting and horoscopes alike!
Ritual Dyes has released a new product collection, designed in harmony with the signs of the Zodiac. With each new sun cycle, there is a specific yarn colourway created infusing all of the particulars of that sign (favourite colours, general mood, etc). At the same time, an enamel pin and a large fabric patch has been released with each knitterly Zodiac.
Choose between the following three bases, or combine a couple for a textural knit. Pick up extra skeins here.
Priestess – Ideal for brioche projects, sweaters, plush shawls and more.
Weight: DK
Fibre: 100% Superwash Merino Wool
Length: 229 m/250 yds
Tension: 22 sts = 4 inches / US 2-8 needles
Fae –  Use this delicate laceweight alone, or combine with another yarn for a detail of texture and halo.
Weight: Laceweight
Fibre: 70% Kid Mohair, 30% Mulberry Silk
Length: 411 m/459 yds
Maiden – Springy and long-wearing. Ideal for socks, shawls, and fine gauge sweaters.
Weight: Fingering / 4 ply
Fibre: 80% Merino, 20% Nylon
Length: 366 m/400 yds
Tension: 28.0 sts = 4 inches
Patches, pins and yarns can also be bought individually here.
Available exclusively at Fig Tree Yarns in the UK.
| | |
| --- | --- |
| Zodiac | Aries, Taurus, Gemini, Cancer, Leo, Virgo, Libra, Scorpio, Sagittarius, Capricorn, Aquarius, Pisces |
| Yarn Base | Priestess, Maiden, Fae |