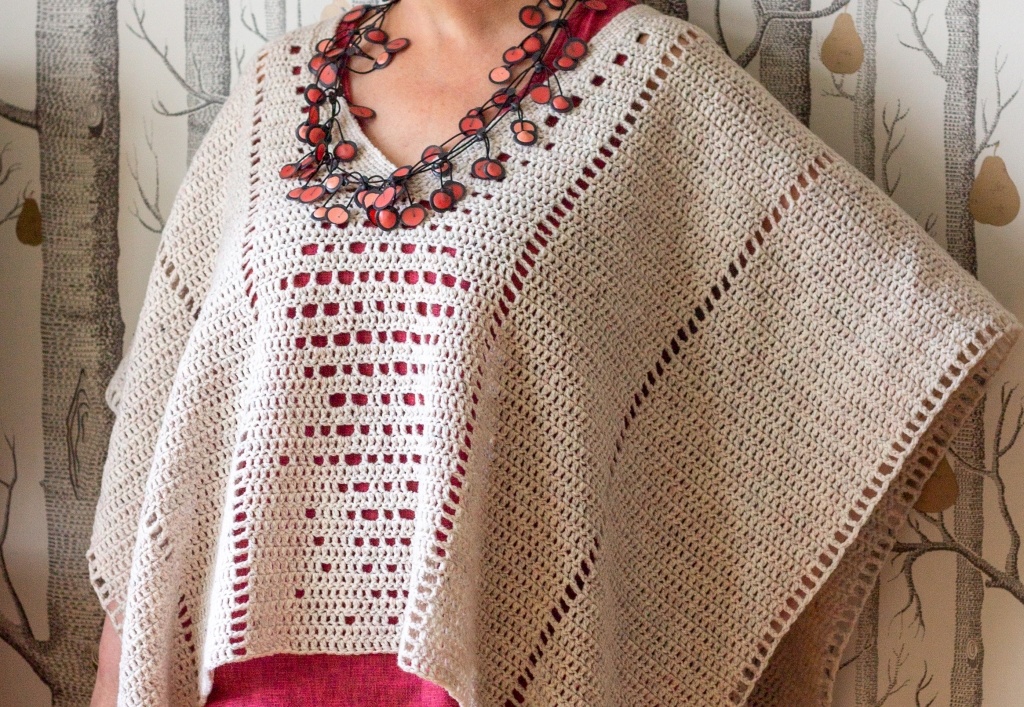 Sample Spotlight: Cross Country Poncho
For our first studio sample in our new stock of Daylights by Harrisville Designs, we chose something large scale, rustic and unique – enter the Cross Country Poncho! Our island lifestyle full of fresh sea air and countryside exploring lead us to a poncho as an ideal all-weather garment choice.
This crochet pattern by Two of Wands features a simple yet effective stitch pattern, with eyelets throughout and corner tassels for added interest. You can find the pattern for FREE here!
We opted for the red-dusted Daylights colourway 'Bloodshot' for our version, which gives an overall subtle pinkish hue. The project used 7 skeins in total, including the tassels. It can be difficult choosing between the six Daylights colourways through a screen, so we also stock Colour Cards with a strand of each to help you choose the perfect match for your project.
Our talented sample knitter Sarah Davies did an amazing job with this knit, and we asked her for some insight into how she found the project.
Notes from Our Knitter
'I've been following Alexandra of Two of Wands on social media for some time. When you showed me this yarn I knew it would be perfect for the Cross Country Poncho.'
'When I was using it it felt "real", not mass produced, and as the pattern is simply UK tr (US dc) and ch-sp, although there is a chart you can follow for the pattern if you prefer, I found my mind wandering and thinking about where the yarn had come from and the process to turn it from a fleece into a skein of yarn.'
'The pattern called for the back to be longer than the front but it was easily adjusted as the bottom of the back is just rows of UK tr (US dc) so I reduced the number of rows by 9.'
'The finished article was quite stiff but once it had been washed, (I simply popped it in a laundry bag in the washing machine on a wool wash), using non-biological liquid and fabric softener and blocked, it was lovely and soft with a great drape.'
'I'm delighted with the finished garment and would love to use the yarn again.'
The devil's in the details…
We're looking forward to taking this poncho out for a spin on the beach or the sand dunes of our island – keep an eye on our Instagram page for an upcoming photoshoot!
---
Shop the Project