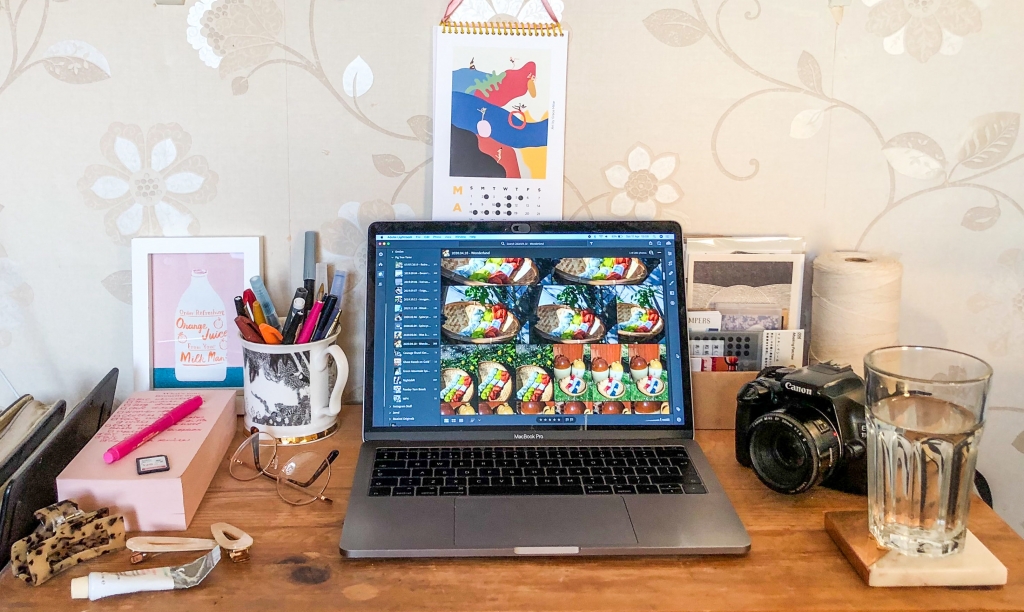 Working from home with us
Adjusting to our new working from home normal, with tips from the point of view from a knitter and a photographer.
Imogen – The Knitter
Fig Tree Yarns shares its space with my music school and in the absence of students, I have set up my desk on the Yamaha grand piano.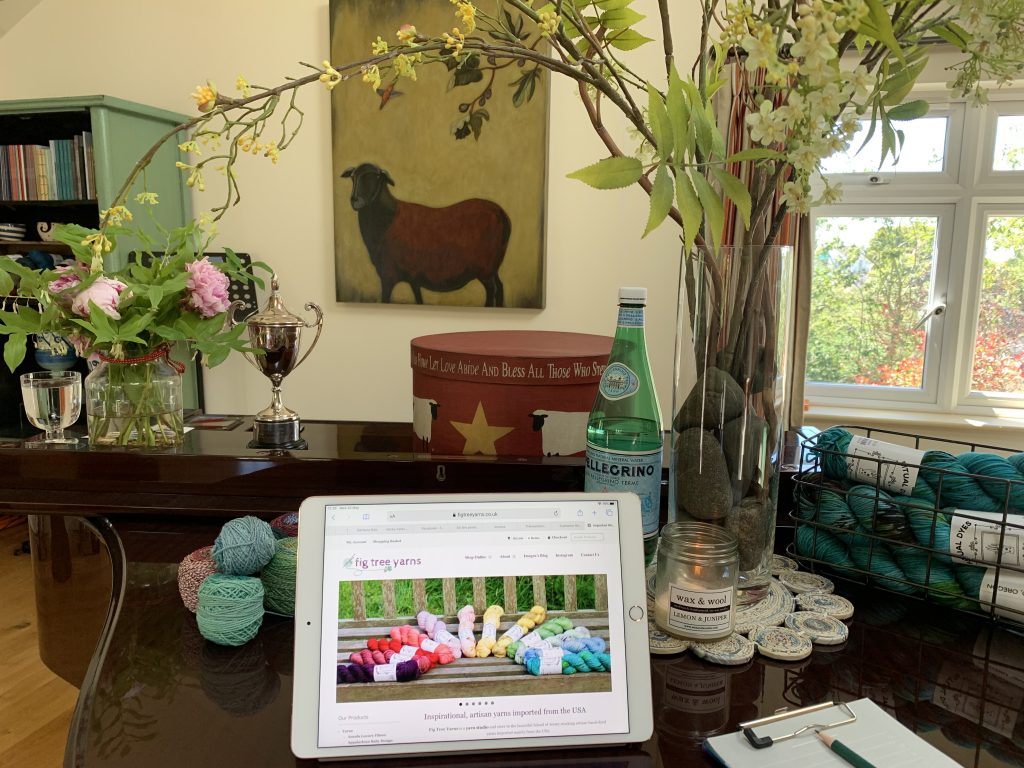 I have a stool but like Flo, usually prefer to stand to work. I like my iPad and am old fashioned enough to like a paper planner too.
I usually have a half finished project on my 'desk' – or one I am about to start. I have been winding some skeins of Spincycle for a 'Shifty' for the little person in my life and am feeling inspired by the colour of Ritual Dyes 'Aquarius' colourway for my 'Water Bearer' – view the pattern on Ravelry.
The painting above the piano is by Phyllis Stapler and I bought it in the Sorrel Sky Gallery in Santa Fe.
My Tips for working from home? Little luxuries to personalise your space – I always try to have some fresh blossoms nearby. San Pellegrino Water feels exotic and my Wax & Wool Candle smells divine!
Flo – The Photographer
Here I am in my temporary photography spot – aka, my family home garden! I feel very lucky to have some outside space, and if you know Fig Tree Yarns' photos already, you know I love to take my skeins shots amongst trees and plants.
Most of the week I do not look quite as put together as I do here, but I am trying to make sure I don't spend all day in loungewear, as I feel much more productive when I'm wearing 'proper' clothes.
My Workspace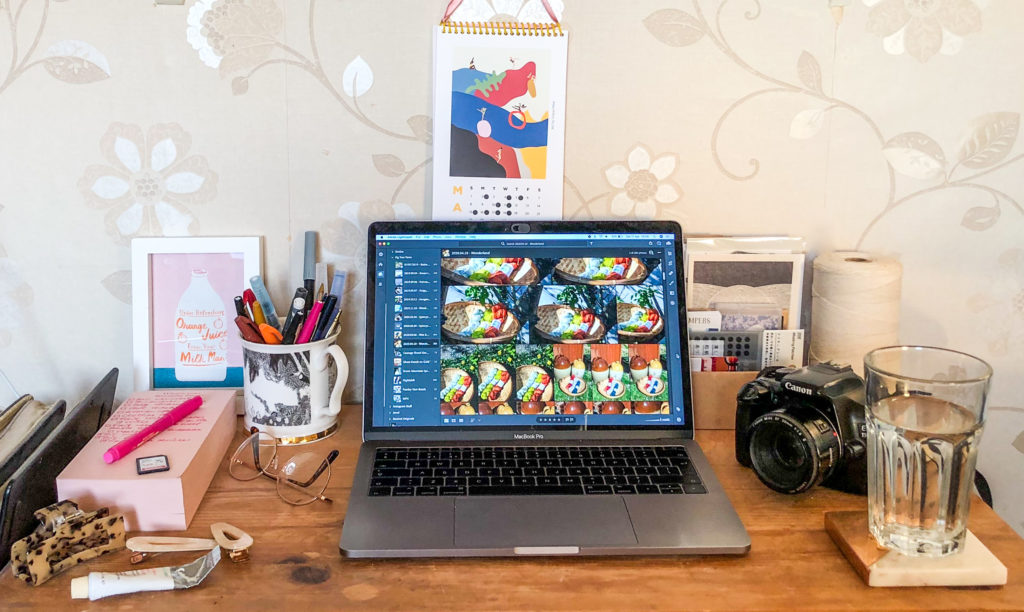 My isolation workspace in my old bedroom at home was thrown together quickly and is too small for a desk – so I had to improvise… I'm very good at sitting down all day long, so I chose to turn the top of a sturdy chest of drawers into a standing desk. It keeps me 'on my toes' (literally!) and is a good way for me to get a bit of daily exercise now that I don't have a commuting walk.
What's on my workspace?
Pretty Things – Despite the small space, I like to brighten up my desk with nice artwork, like my Milk Bottle Print and my Slowdown Studio Calendar (which hasn't been used much recently, lucky it's still nice to look at!) I'm also a sucker for using my favourite mugs like my Abi Overland Tankard as a pen pot out of fear for it being broken from daily drinking use.
Photography equipment – I use my trusty iPhone for most of my Fig Tree Yarns Instagram stories, but for photoshoots for our website and permanent socials photos I use a Canon EOS 1100D. It's a very old and discontinued digital camera, but I haven't yet felt the need to upgrade because, in my opinion, a good photo is all about light, with Lightroom to save me when that fails. I use a 50mm Portrait Lens for all my photos; it offers great depth and is flattering for both modelled garments and close ups of skeins. The fact that it has no zoom was originally daunting, but now I love the creative challenge of moving around for the right composition.
And finally… water! Most of us could probably do with increasing our water intake a little bit, but I'm particularly bad at keeping hydrated. I'm trying my hardest to ditch the tea addiction and replace it with water as much as I can!
Tips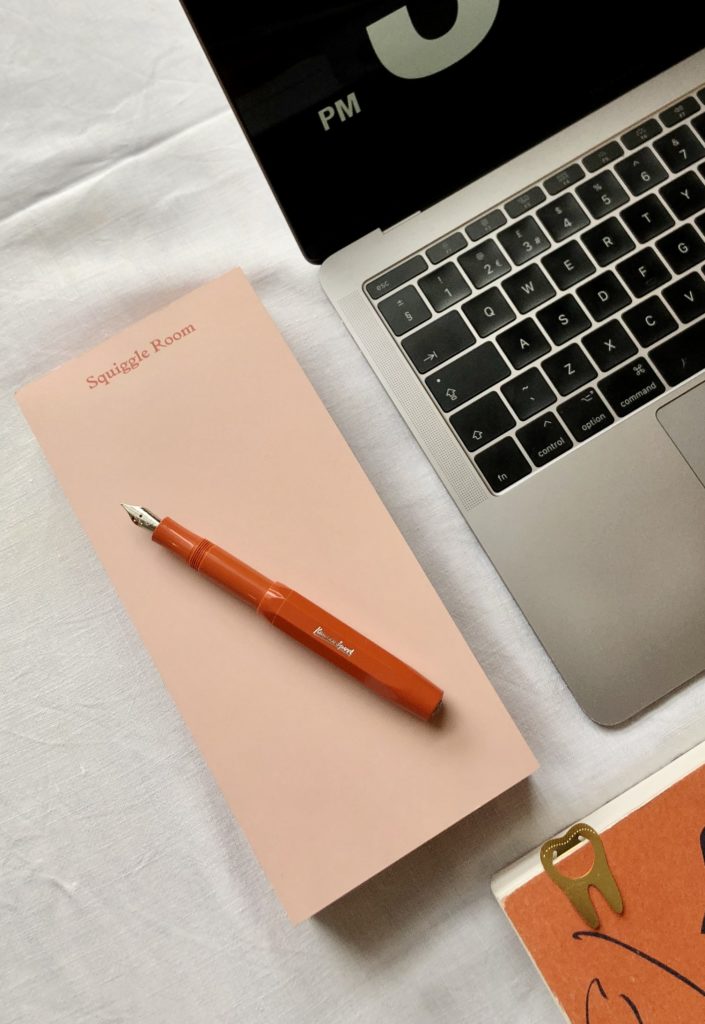 Start your day with a To Do List
Write down all your tasks you want to achieve that day each morning, whether it be finally completing that big newsletter, or something as small as (and possibly pointless) as rearranging your bookshelf into colour order…
I use The Creative Block with a Kaweco Fountain Pen to make mine feel slightly more fancy!
Put on some music
This is not a revolutionary suggestion, but the seemingly wasted hours of creating Spotify playlists have finally paid off and I'm pretty chuffed about it. If I need to chuck on some background acoustic music I pop this playlist on or one of Spotify's work playlists to keep me company.